Key to Abbreviations, Symbols, and Color Codes Used in the PLA Glycosylation Maps
Symbols and Abbreviations for Monosaccharides

This figure was extracted from:
Essentials of Glycobiology, 2nd edition
NCBI/Bookshelf http://www.ncbi.nlm.nih.gov/books/NBK1908/
Edited by Ajit Varki, Richard D Cummings, Jeffrey D Esko, Hudson H Freeze, Pamela Stanley, Carolyn R Bertozzi, Gerald W Hart, and Marilynn E Etzler.
Cold Spring Harbor (NY): Cold Spring Harbor Laboratory Press; 2009.
ISBN-13: 9780879697709
Copyright © 2009, The Consortium of Glycobiology Editors, La Jolla, California.
Locations
| | | |
| --- | --- | --- |
| ERm | | Endoplasmic Reticulum membrane |
| ERl | | Endoplasmic Reticulum lumen |
| ERc | | Endoplasmic Reticulum cytoplasmic side |
| GOm | | Golgi Apparatus membrane |
| GOl | | Golgi Apparatus lumen |
| GOc | | Golgi Apparatus cytoplasmic side |
| NUc | | Nucleus |
| CLc | | Cytoplasm |
Symbols used in Petri net graphs (PLA maps)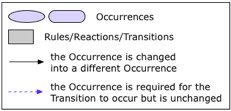 Parts of the PLA viewer window